Currently viewing the category: "Health Tips"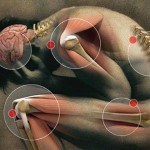 Chronic pain usually falls into one of two categories:
Nociceptive pain is caused by damage to body tissue and usually described as a sharp, aching, or throbbing pain. The damage may be due to an event such as an injury or surgery or an active disease process within the tissues.
Neuropathic pain occurs when there [...]
Continue Reading

→
Free Newsletter!

Subscribe to receive our free montly newsletter.