Currently viewing the category: "Health Tips"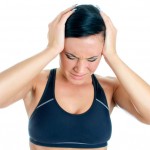 Exercise headaches usually strike in younger people, from adolescence through age 50. This type of headache usually occurs with lengthy exercise sessions. The headache usually pops up at the height of exercise and the pain typically fades when the exercise stops. However, in certain cases the exercise induced headaches can last up to two days. [...]
Continue Reading

→
Free Newsletter!

Subscribe to receive our free montly newsletter.